Discover what teachers "took away" from the workshop using these quick and effective exit ticket ideas for professional development.
Gather the feedback you need to make informed decisions about future workshops.
Download a set of these exit ticket ideas for professional development towards the end of this post.
Exit Ticket Ideas for Professional Development
Parking Lot
At the close of the professional development session, teachers write on a sticky note one or two lingering questions or comments they have about the day's topic.
Before exiting the workshop, they place their sticky note(s) on a "Park Your Questions Here." anchor chart.
Tweet Exit Ticket Idea
Teachers share their thoughts using a tweet professional development exit ticket.
3-2-1
Teachers respond to the following prompts…
3 ideas you'll try in your instruction
2 positive comments about the overall presentation
1 lingering question about the material presented
Red, Yellow, Green
This exit ticket idea for professional development guides teachers in responding to the actual material presented.
Present the following three color-coded prompts to participants…
Red: I need a lot more clarity about…
Yellow: I'm a little hesitant or feel unsure about…
Green: I'm 100% onboard with…
K-W-L Anchor Chart
The K-W-L anchor chart graphic organizer prompts teachers to activate prior knowledge along with synthesizing concepts.
Here's how it works…
Create a simple K-W-L anchor chart graphic organizer.
Before the workshop (or at the very start of it), ask teachers about their prior knowledge of the topic.
Jot responses in the "K" section of the chart. (What They Already Know)
Gather teachers' questions in the "W" section of the anchor chart. (What They Want to Know)
At the conclusion of the workshop, teachers record on a sticky note any new information learned. (What They Learned)
Passport Out
Before teachers "take off" at the conclusion of the professional development workshop, ask them to write one or two questions, concerns, or comments that they have about the day's topic.
Have them record their comments on a sticky note, or provide a simple template similar to the one below.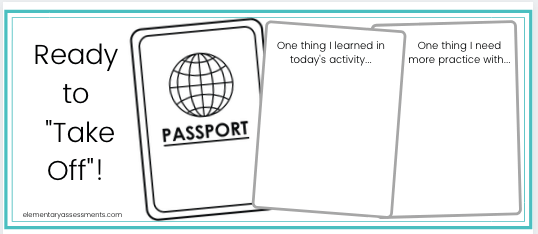 Exit Ticket Prompts for Teachers
Prompts are arguably one of the easiest exit ticket ideas for professional development.
Following are a few professional development exit ticket prompts to consider.
Something new I learned today…
Regarding the workshop topic, one idea that gives me pause is…
I have a slight issue with…
I'm most excited to try out…
One strategy I'm ready to implement in my instruction soon is…
I'm a little confused about…
Two questions I still have about ___________ are …
I'm a little concerned about…
What surprised me the most about _______ was…
Please provide clarification about…
Before implementing _____ strategy in my classroom, I'd like to research more about…
When it comes to the main ideas of the workshop, I'd maximize my results when implementing the strategies if …
Respectfully, the point about __________doesn't resonate with me because…
I'm very excited to learn more about…
It would be nice to revisit the subject of …
My biggest desire regarding this matter…
One thing I need the principal to consider or understand is …
I'm open to implementing these new ideas, but I'd need support and feedback with/from…
Share with teachers 180+ exit ticket questions and prompts for students.
Thought Bubbles
Encourage teachers to connect ideas among previous and current professional development workshops using "thought bubbles" exit tickets.
During the workshop, teachers jot down any meaningful connections they have about the material.
To guide their thinking, consider providing questions such as…
How do the concepts from this workshop connect to a previous one?
What research is repeated over time to support mentioned learning theories?
Are there any similarities and/or differences observed in the teaching strategies presented across workshops?
Final Thoughts
Include these powerful exit ticket ideas for professional development in teacher workshops.
Collect the essential feedback you need to modify upcoming sessions.
If you liked these exit ticket ideas for professional development, share with teachers a variety of exit tickets they can use in their classrooms.